Music & Song – Diana Domingo and "The Blue Planet Orchestra"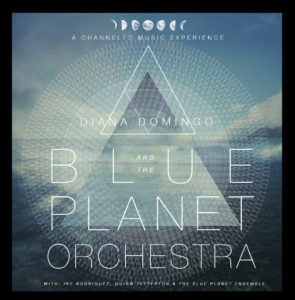 Voicescapes / Soundscapes / Percussion & Channeling merge to shape the Voyaging Experience of The BLUE PLANET ORCHESTRA – an Experimental Intuitive Band featuring Vocal Voyager ™ DIANA DOMINGO (vocalvoyaging.com), Creative Mystic Sound Mixer / percussionist QUINN TETTERTON & percussionist / Cosmic Instrumentalist IKE RODRIGUEZ as well as ever-shifting players of (The Blue Planet Ensemble).
This year we are hitting the studio to create our first album of these "Channeled Songs" along with Meditations, Visualizations and various Sonic Tools to take people through a "Dreamy, Surreal, Healing, Harmonic and Melodic Landscape to accelerate the journey into sound and our voice.
Channeled Music & Song – Soul Song
A few samples of our Live, Real-Time Songwriting and Channeling Sessions with Diana Domingo & The Blue Planet Orchestra.
Another Track with Diana Domingo & The B.P.O – "The Fire of You"
"ONEIRICA" – THE DREAMLAND
"ONEIRICA" features Diana Domingo (Vocal Voyager + Songwriter) & Andrew Hassenger (Soundscape Artist/Keyboard + Composer) was formed in August 2017 out of the Surreal and Dreamy worlds of both of our minds…."Oneirica" (from oneiric or Greek oneiros 'dream' ), creates the vision of a "dreamland" – the place where anything is possible and the imagination takes hold to create and manifest at will all the worlds available to us in this dynamic Multi-Verse. This Concept band collaborated for about 6 months and created approx. 50 tracks together. The Poster came from the night we played with "Wet Tuna" at One Caroline in Saratoga Springs before they closed. It was a magical night.