Description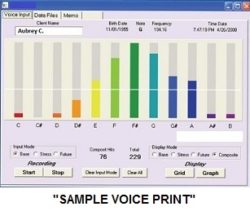 Did you know the voice holds the Keys to your Well Being? Did you know that your voice is a holographic picture of your health?
A Voice Print & Analysis Session with Diana Domingo (In-person, Telephone, or via Video Chat service) will accurately reveal frequency patterns in your body, showing which tonal frequencies are either heavy (overworked or exhausted) or weak (stagnant or not working).
Diana will do three quick voice tests looking for the pitches and changes in the notes that you speak. She will then determine which pitches are weak in your voice.
Based on your Voice Print Profile, You will receive: (1) up to two "Tone Along" Healing Sound Recordings (based on your lowest note(s) for you to listen and tone along to; and (2) a Digital Copy of your Voice Print with your full-spectrum at time of your Voice Analysis (see sample print).
More Details on Digital Product Deliverables:
"Tone Along" Healing Sound Recordings of your one or two Lowest notes to listen to and tone with regularly. These are high-quality 20 to 30 minute recordings. The remedy is to play back and tone the missing frequencies into the body to balance it out. It is similar to vitamin therapy – if you are missing a vitamin in the body, you take that vitamin so you have a good balance of all frequencies in the body – so energy can then flow through your whole system. By listening to sounds or music and/or toning in a certain key, you break up that frequency landscape and the issue can no longer exist; AND

A Digital Copy of Your Voice Print revealing your Birth note Frequency and displaying your Voice spectrum with all notes from missing (if any) to highest.
Through this quick process, you will be empowered to understand the root cause of your physical-emotional energetic imbalances, and learn the right Key to take back control of your own energetic health through taking in and working with frequencies that are low or you are missing, through the right Tones (C, C#/Db, D, D#/Eb, E, F, F#, G, G#, A, A#, B).
To Pay For and Book Your Session:
Prepay/Complete purchase on Website vocalvoyaging.com.

ONCE PAID

, please email: Diana vocalvoyaging@gmail.com and

include the following in Your follow-up email:
Your Full Name
Telephone number, with area code
Best days and times for you to schedule Monday through Saturday. 10:00am to 8:00pm EST. We will email you back to confirm time.
Indicate if you would like an IN-PERSON SESSION (available only in studio in Saratoga Springs, NY) or PREFER TELEPHONE OR VIDEO CHAT (regular telephone, skype, facetime, or google hangouts, etc.). This option is available in our out of state.
******VERY IMPORTANT PREPARATION****** –
DO NOT eat or drink anything except water ONE HOUR BEFORE your session (unless otherwise directed). You must send Disclaimer back signed prior to session.
www.vocalvoyaging.com
Prepay on Website www.vocalvoyaging.com
Do want to start with a more in-depth, longer session? Try the 60-minute Session which includes in-depth and comprehensive personalized recommendations for you to unlock the Healing Power of your Voice!
20% off coupon code on first order! Enter code: healingpower at check out.